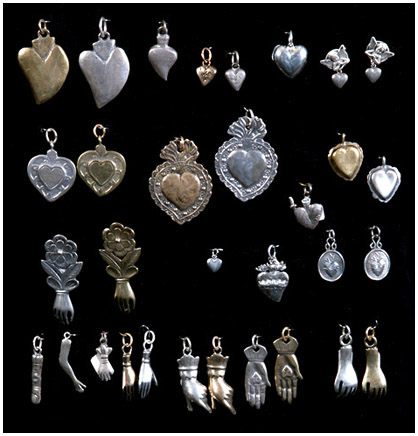 Milagros -- Page 1 of 4
Milagros (miracles) are charms of body parts or other symbols that are used to focus one's intention for a specific healing or for something of which you are in need. They are carried or left on altars as a petition for help or thanksgiving for a miracle that has been received. They are most often given to people who are in need of a physical healing or a healing of the soul. We offer a wide selection of sterling silver and bronze milagros as well as larger tin and pewter pieces. Also, please look at our selection of Milagro Crosses.
Click on the milagro that interests you to learn more.
Please note: Because of the current volatility of the silver market, prices are subject to change without notice.
If you have a question or wish to place an order contact us at (505) 351-4112
© 2010 El Potrero Trading Post. All rights reserved.